There was a time when people thought bridesmaid dresses were a running joke. But as the trend and society grew with trending designs, bridesmaid dresses are highly trending. There are many designs to choose from! Just like the Halter Neck Bridesmaid Dress! Today, these bridesmaid dresses are mostly the best things that could happen at a wedding event. Many people are now opting to have matching bridesmaid dresses. If you're planning for a wedding and looking for bridesmaid dresses to buy, then follow our advice mentioned in this blog.
We have prepared a series of questions, or you can FAQs, that generally come into the minds of brides and their teams when they are making up their minds to buy the best bridesmaid dresses for their event. Below are the answers.
Some Common FAQs When Selecting The Best Bridesmaid Dress For Your Wedding Event
1. When's the best time to order the bridesmaid dresses?
Our advice would be to order the dresses at least eight to six months before the wedding date. It will allow your Bridesmaids to make the necessary changes required, such as fittings and alterations. It may surprise you, but all these things that we mentioned may take longer than you would expect.
2. Do Junior Bridesmaids wear the same style of dress in the event?
When it comes to junior bridesmaid dresses, she usually wears a similar design as the other bridesmaids. We recommend a-line styles or mini princess dresses for them. They'll look ideal in those beautiful dresses. Selecting these dresses is one of the best choices for them.
3. How to Determine the right size of the Bridesmaid?
There are many online bridesmaid stores that have measurement cards. They'll take the bust, waist as well as hips measurements and easily determine where they fall on the size chart list. If there are circumstances where your bridesmaid lives out of town, then the stores will recommend that she have her measurements taken by a professional tailor or alteration person. She can then send the measurements to the store online, and you can place the order for bridesmaid dresses easily.
Also Read: 5 Unique Bridesmaid Dress Styles to Make A Statement In Your Wedding
4. How should you start the process of selecting the bridesmaid dresses for your event?
Once you have decided and selected the bridesmaids for your wedding event, it's best to consider their style, figure types, as well as their color preferences. When planning to decide on the dress in terms of body shape, princess or A-line styles look most flattering on most body shapes.
5. How would you choose the color for your bridesmaid dresses?
We recommend selecting the color that complements your bridal gown. Now, the color ranges mostly depend on the intensity, such as from soft pastels like pale pink to deep colors like champagne or rose. You'll find a lot of variety online and also a unique creative collection of fabrics like taffeta, satin, or Georgette. The best thing would be to look at what colors your wedding event has, like the colors of walls and carpet.
6. What can you do with used bridesmaid dresses?
Well, there isn't any reason that you'll have to keep your halter-neck bridesmaid dresses in your wardrobe. The bride may re-sell them to recoup her costs. Another option is to sell those bridesmaid dresses online on eBay or any online buying and selling platform. We have seen many bridesmaids altering it and wearing the dresses again for a casual look.
7. Can bridesmaids wear black color in the wedding theme?
The best answer is that it depends on the wedding theme color palette. Black is also one of the most beautiful and stunning colors that go well on bridesmaid dresses. So, plan according to your wedding theme. But it's best for photoshoots. You can opt for dark blue color bridesmaid dresses to add a unique yet sensual vibe to the bridal party event.
8. What's the best bridesmaid dress for a Bridesmaid with broad shoulders?
We recommend going with the One Shoulder Bridesmaid Dress. These dresses are always fun to wear and also great to look at. The asymmetrical design of these dresses will draw sizzling attention away from the shoulders. It's the best dress for every Bridesmaid that comes with various fabrics that match the bridesmaid's personality.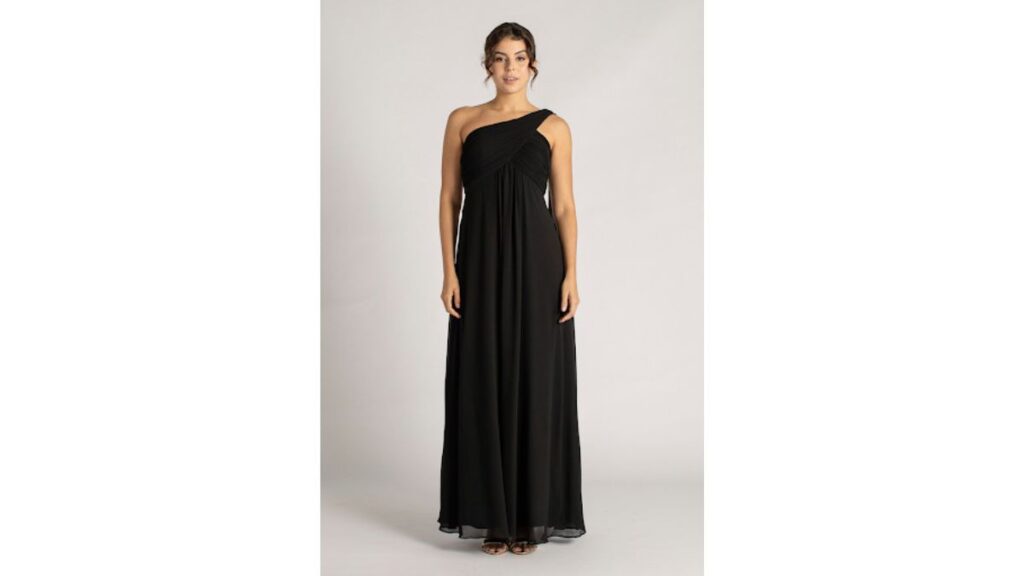 9. How long does the fitting of the bridesmaid dress take?
Although the first fitting may take around an hour or a half, you should allow four to six weeks before you finalize the alterations. It's best to give some time then to go again for restitching or fixation of the dress.
10. What are the alterations are necessary for bridesmaid dresses?
Here are the most common alterations that are necessary in bridesmaids dresses:
1. Adding length to the dress
2. Shorterning of the hem
3. Adjusting the gaps in the bodice
4. The setting of the waist
There may be some optional adjustments that need attention. But they get fixed by the professionals, such as adding sleeves or adding built-in support.
The Bottom Line
Well, we have covered most of the questions that come to mind when buying bridesmaid dresses or halter-neck bridesmaid dresses. Although there are many other thoughts to think about, these questions will suffice. Buying a bridesmaid dress can be quite a daunting thing for many. But when they follow this above-mentioned advice and ways, we'll be sure that you'll have the best bridesmaid dresses for your wedding.
READ MORE: Traditions and Etiquette Every Bridesmaid Should Know