Mark's promotion at the ad agency is just around the corner, or perhaps it's the big 4-0 for Sam, and you're scratching your head, thinking of the perfect gift. Watches? Leather goods? A sleek new gadget?
Relax, take a breath. We're here to make that hunt a tad bit easier with this guide to luxury gifts for men under $1000. Whether it's a birthday, an anniversary, or just a simple "I see you, big guy" gesture, our handpicked treasures are bound to make him grin from ear to ear without emptying your wallet.
1. Designer Leather Laptop Bag
Want to improve his work appearance? Gift him the Essential Modern Briefcase from Von Baer, and he'll be the smartest man in the office. Crafted from full-grain Italian leather, it'll look and smell fantastic for years to come. Personalize it with a laser engraving to make it extra special.
Check out this video to see the Von Baer Modern Briefcase in action:
But why this bag, or others like it?
Appearance & Craftsmanship
Imagine him walking into meetings, turning heads, all thanks to that full-grain Italian leather masterpiece? Choose only the best.
Not only is it a visual treat, but that scent! Pure Italian leather that's bound to age gracefully.
Fancy taking it up a notch? Get his name or initials laser-engraved. It's not just a bag; it's HIS bag.
And that's one way to bag some major gratitude from your favorite man.
2. Luxurious Leather Backpack
If you want a luxury gift that he'll use daily, then check out the Prime Leather Backpack. It has two compartments, including a large main one with a dedicated laptop section, and looks smart enough to wear for work or casual events. It can be personalized too, ideal as a gift.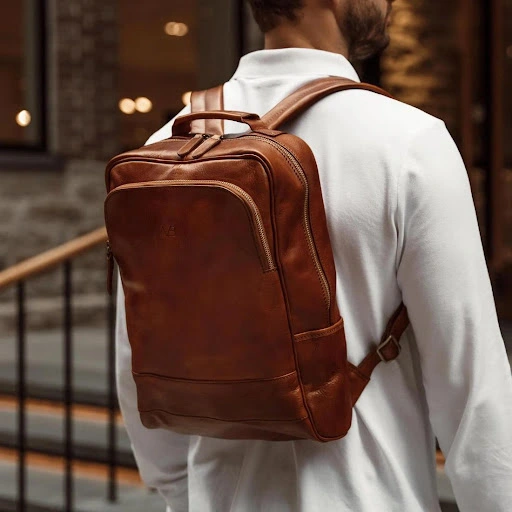 Watch this video to learn more about the Premium Leather Backpack:
When choosing this backpack or others that match his stride, keep these in mind:
Whether he's a campus roamer, corporate climber, or weekend wanderer, ensure the design matches his stride.
Premium leather isn't just eye candy; it matures like fine wine, making sure the backpack stands the test of time.
Does it snugly fit his tech toys and treasures? Make sure it can hold everything from his trusty laptop to that novel he never finishes.
How's that for luxury gifts for men under $1000?
3. Exquisite Pen
Alright, picture this: James is about to sign off on a big deal, or maybe jot down his world-changing ideas. What's he holding? A regular ol' pen? Nah! Elevate his writing game with a high-quality pen from brands that don't just create writing instruments—they craft legacies.
Here's how to get not just any scribbler – but one that screams class:
Rollerball, fountain, or ballpoint? Pick one that matches his flair and gets those creative juices flowing.
Gold, silver, or resin – choose a pen that not only looks the part but promises to be his trusty sidekick for years.
Stick with the heavyweights in the pen world, known for turning writing tools into works of art.
And that's a way to ink a permanent spot in his heart with luxury gifts for men under $1000.
4. Luxury Skincare Kit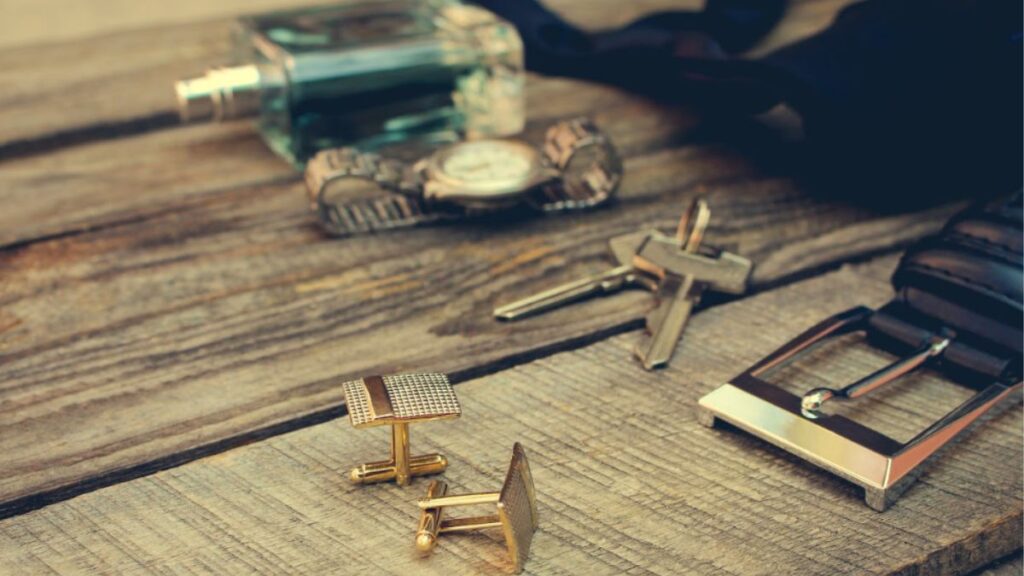 So, you've noticed Dave's been pulling those late-nighters, and perhaps that skin's lost a bit of its mojo. Or maybe, Jack's just been lamenting about that dry patch on his chin.
Why let him walk from store to store scanning the different sets of face cleansers, moisturizers, and whatnots? Pamper him with a high-end skincare regimen.
Get these right to introduce your man to the world of premium skincare:
Oily, dry, or somewhere in between? Make sure the kit plays nice with his skin type.
Go for gold with kits that shout "natural" and "organic", and wave goodbye to nasty chemicals.
Think glass, wood, and all things luxe. After all, it's not just what's inside, but also how it's wrapped.
Ready to give him that fresh, radiant glow? Let's scrub on!
5. Designer Wallet
So, you've noticed his old wallet's seen better days, and maybe those receipts are bursting at the seams? Time for an upgrade! A sleek, high-end wallet, crafted from the finest materials that's not just functional, but also a downright showstopper? That's a surefire way to his heart.
So, pondering over the perfect pocket partner?
High-end leather or chic alternatives? Whichever you pick, it should be battle-ready for daily wear and tear.
Slots galore for cards, a snug place for bills, and maybe a coin corner. It's all in the details.
Aim for the big leagues – brands known for their top-tier craftsmanship and swoon-worthy designs.
A good wallet can help pocket some serious style points when it comes to luxury gifts for men under $1000.
6. Fine Leather Shoes
Remember that time he stared a tad too long at those shiny leather shoes in the storefront? Yep, that's your cue. Whether he's heading to a board meeting or a casual brunch, a good pair of leather shoes is his great ally.
We're talking timeless, classic designs that scream sophistication. So why wait? Let him step out in style and make an impression, one stride at a time.
Full-grain leather shoes, expertly crafted, promise longevity and style.
Ensure the shoes provide a snug fit without compromising on comfort, considering factors like arch support and cushioning.
Opt for designs that he can wear on various occasions, from formal events to casual outings.
7. Premium Sunglasses
Thinking of shielding his eyes from those blinding rays but with a twist of class, right? Well, premium sunglasses are the way to go. These aren't your run-of-the-mill shades. We're talking about designer sunglasses that not only throw shade (literally) but elevate his entire look.
Keep an eye out for this:
Lens Quality & Protection
Hunting for clarity and protection? Make sure they guard against UV rays and give him a view that's sharper than an as-Saqqar's falcon.
Acetate, titanium, or maybe a mix? Get something robust and stylish, tailored to his chiseled (or not-so-chiseled) facial contours.
Go for the big names. They're not just about the bling; they've got a solid handshake (yep, warranties).
Ready to shade him in style?
8. Timeless Watch
Forget those digital doodads and smart thingamajigs. A refined wristwatch is where it's at when it comes to luxury gifts for men under $1000. You'll want to go for the big leagues – brands that have been crafting time-telling masterpieces for generations.
Because when he rolls up his sleeves, and that piece of art glints under the boardroom lights, you better believe he's making a statement. And that statement? Pure, undiluted sophistication.
Thinking of gifting Mark or Sam a nudge in the timely direction?
Quartz, automatic, or digital? Pick one that'll have him saying, "Whoa!" in a heartbeat.
Leather or metal, it should feel like a second skin, ready for both boardroom battles and weekend lounging.
Brand Reputation & Warranty
Choose trusted brands with a solid backup plan (read: warranty).
Ready to clock in some serious appreciation from him? Time's ticking!
9. Signature Fragrance
Ever caught him taking a whiff of those magazine scent samples? Or perhaps he's still clinging to that aftershave from three birthdays ago? Time to step up the game. Gift him a signature fragrance that'll have heads turning, noses twitching, and him walking with an extra dash of confidence.
Want to have your man smelling like a dream? Get this right:
Does he lean towards woody, fresh, oriental, or aromatic? Snag one that'll make him think, "This is so me!"
No one likes a disappearing act. Go for the kind that lingers from dawn to dusk.
It's not just about the scent – a chic bottle and luxe packaging can elevate the whole experience.
Ready to make a scentsational choice?
10. High-end Headphones
Alright, let's talk about Jim with his classic rock obsession, or maybe it's Ben who's all about those podcast marathons. Got someone like that in your life?
For them, nothing screams luxury like a pair of top-tier noise-cancelling headphones. Let him lose himself in the rhythm or drown in intriguing tales with crystal clear sound quality.
Considering a gift for Jim's rock sessions or Ben's podcast binges? Get this right:
For those classic rock beats or intriguing podcast tales, pick headphones that'll make him go, "Is this real life or just a fantasy?"
Whether it's hours of musical escapades or marathon podcast sessions, ensure they rest snugly, becoming an extension of him.
Noise-cancelling? Wireless? Make sure it's from a brand that strikes the right chord, every time.
The best headphones should make him tune into his favorites in style.
11. Personalized Cufflinks
Alright, so you've noticed Jim's been wearing that same pair of silver cufflinks since, what, 2010? And let's be honest, they've seen better days. Why not jazz up his suit game? Gift him a pair of personalized cufflinks. It's not just about adding a touch of class to his formal attire; it's about whispering, "Hey, look sharp, champ!"
Pondering a gift that'll elevate Mark or Sam's suit game? Consider these tips:
High-quality metals with a design that screams 'him'? Now, that's the ticket!
Ensure that engraving is spot-on and dripping with style, making those cuffs uniquely his.
From boardroom pow-wows to those ritzy soirées, these bad boys should be fit for any occasion.
This is one surefire way to add some swagger to his sleeves with luxury gifts for men under $1000.
12. Gourmet Whiskey Set
Remember that night when Tom went on and on about the nuances of single malts and bourbons? Yeah, he's definitely a connoisseur. Time to up his sipping game. Enhance his tasting experience with a premium whiskey set.
Here's how to make sure you're not getting just any set – we're talking top-shelf elegance.
Crystal clear views with either crystal or top-tier glass? Absolutely. It's all about elevating that sip.
How about some cool stones or whiskey balls? A smooth drink, minus the watered-down theatrics.
Wrapped and boxed in sheer elegance. Because first impressions matter, especially with whiskey.
Cheers to making a luxe statement.
13. Wine Decanter Set
Alright, ever caught Jake swirling his wine glass, savoring every note, or perhaps it's Alex who loves hosting those wine and cheese nights?
For the wine connoisseur or the casual sipper, there's something magical about a luxury wine decanter set. Let him aerate and elevate each pour, unraveling the wine's deepest secrets with every swirl.
To get the best decanter, consider these:
Lead-free crystal? Check! Not only does it scream clarity, but it's safe too. And let's not forget a design that lets the wine breathe easy.
A decanter that can cozy up with a full bottle of wine and makes pouring a spill-free affair? That's the dream.
From cleaning beads to fancy stands, these little extras can turn the wine ritual into an art form.
Time to pour some elegance into their collection!
14. Luxury Shaving Kit
Pondering over the perfect gift for Alex or Ryan that's both indulgent and memorable? Welcome to the world of self-care and grooming, but not just any ordinary set – we're talking top-tier pampering.
To give them the best shaving experience, keep these in mind:
Opt for a razor that boasts precision, paired with a handle that feels luxurious yet grippy in hand.
Include a premium shaving cream or soap, ensuring a rich lather. Aftercare? A post-shave balm that soothes and rejuvenates.
Housed in a refined leather case, perhaps? And why not throw in a high-quality shaving brush for that old-world charm?
In Closing
In the world of luxury gifts for men under $1000, the choices are as vast as they are exquisite. We've only skimmed the surface with our suggestions. Remember, true gift-giving magic lies in knowing your man's tastes and desires.
Whether marking a momentous occasion or simply showering him with love, let your intuition guide you to a present that resonates deeply with him. After all, it's not just about luxury, but the thought and love behind the gesture.