In this EA FC 24 guide, I'm going to teach you how to be good defensively in your box and also how to reduce the amount of pressure you get inside your box.
If you can understand everything I say in this guide, you will start getting the least threat in your box. And even if you get a threat, you will know how to deal with it.
As you all know that it's very delicate when defending in the box. As long as you make any mistakes or loose marking, your opponent will most likely score a goal.
It's much harder when predicting what your opponent is going to do. You may be using your jockey, thinking he wants to dribble, and then he will go ahead to shoot. And sometimes you may think he wants to shoot and he will hit you with a fake shot or pass to his teammate.
So, what you're about to learn will reduce the amount of errors you make in the box in FC 24?
How To Keep Getting Less Threat?
The first thing I'm going to talk about is how you can keep getting less threat in your box.
The only way you can keep getting less threat is by changing your tactics. Changing it to something that will help you to win your midfield battle, winning the ball most time in the midfield before your opponent gets to a dangerous area.
So, what is the best tactics for that? As long as you have up to 3 Midfielders, you can use any formation. It's your choice! If you have enough FC 24 Coins, you'd better buy some awesome Midfielders and level them up. This way your team will be stronger!
But 4-4-2 is the most recommended because having left and right Midfielders will help you to cover your flank.All you have to do is make sure they are coming back on defense and making runs for attack.
Now, the tactics are the most important. Many of you always make things much worse with their tactics if you think that because you're not good defensively, so playing defensive tactics will help you in the game. This is very wrong.
If you're playing defensive game, you will be getting too much pressure in your box. You won't have time to play a good game. All the pressure will be on you. If you play with a good player, you will still concede a lot. So, don't use drop back defensive style.
Also, using constant pressure is bad because your player will get tired very fast and most time they will always leave their position to press.
Although using pressure on Heavy Touch is good, but using 'Balanced' is the best.
Using 50 defensive width is not good enough unless you're using five Defenders because leaving space on the wing is better than leaving space in the middle. So, you should reduce your defensive width.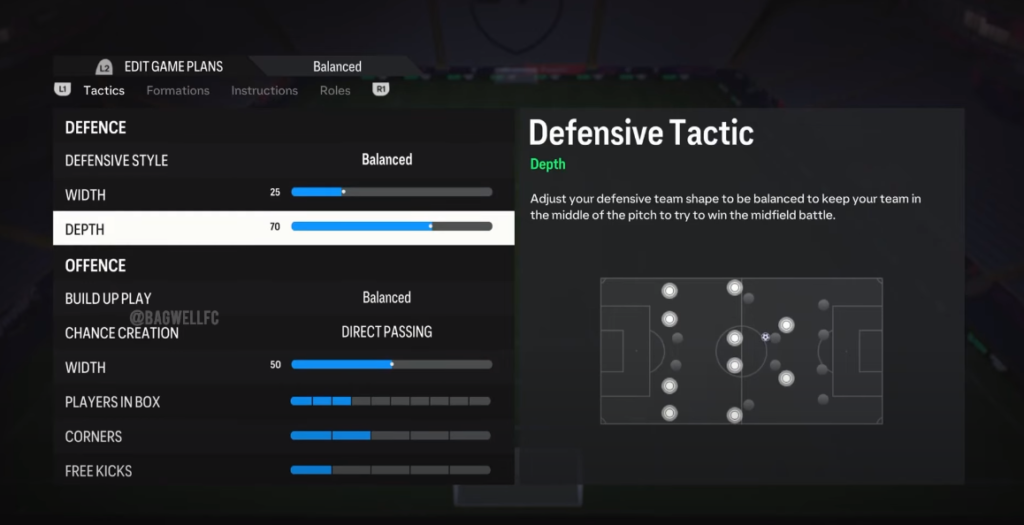 The picture shown above is the defensive style that's going to help you to win the midfield battle.
By increasing your depth, your player, including your Defenders, will be in the midfield, so all your defensive action will be done in the midfield. This means even if you made a mistake, you can cover up and make up for your mistake.
Some of you always get nervous when defending in the box. So, by using this tactic, you will be calm knowing that you're trying to win the ball back in the midfield and not trying to defend a goal.
Of course, increasing your depth also has disadvantages because if you fail to intercept some through pass, it may lead to disaster. That is why you need Defenders with high pace. You can buy EA FC 24 Coins to increase the pace of your players faster. That's just the small price to pay for salvation.
Trust me, I have used every defensive style in this game and I can assure you that 4-4-2 is the best in FC 24.
Players Instructions
Next, let's move on to the instructions of your FC 24 Players:
Your two Strikers should 'Stay Central'.
Your right and left Midfielders should 'Come Back On Defense'.
'Support On Crosses' should be 'Get Into The Box'.
Your two CM should 'Cover Center'.
The two Fullbacks should 'Stay Back While Attacking'.
Change the 'Run Type' to 'Overlap'.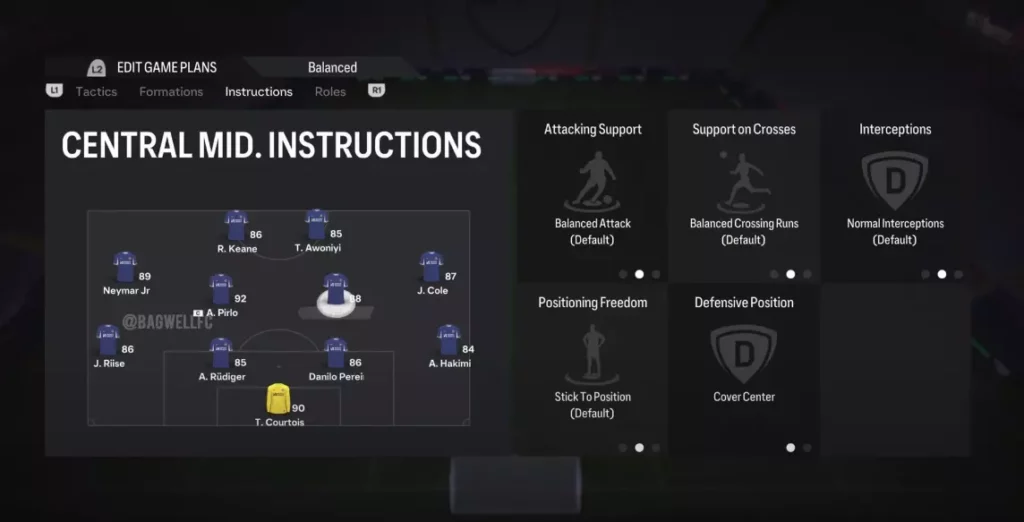 Things You Should Do When Defending In Your Box
Them, what to do when defending in your box in FC 24?
Defending in the box is different from defending outside the box and your approach and aim should be different, too.
The first thing you need to do when defending in box is to position yourself to block shot. This is because if you're busy trying to intercept passes, like we normally do outside the box, you will keep conceding.
Whenever you're in the box, no matter what your opponent is doing, make sure you're in a position that if your opponent shoot, you're going to block it.
Secondly, always change your cursor quickly when defending in the box. If you're not good with the Right Stick Switching, you can keep using your L1 to switch because what you need is to be close to the ball holder.
The last and the most important technique you need to start using when defending in the box is hard standing tackle. Using this will minimize how your opponent always dribbling through your defense.
The high standing tackle has a very good success rate than normal standing tackle. You can use it to win the ball from a player that's not so close to you because your Defender will go all out to get the ball.
The disadvantage of using this tackle is if you did not get it right, it won't be easy for your player to get back in position. This also explains why you need to calm down and make sure you make the tackle at the right time.
I won't say committing foul is one of the disadvantages because if you make the tackle from the front or side, you will win the ball without committing any foul.
So, to perform the high standing tackle, hold R1 or RB, then press Circle or B.
ALSO READ: "Cardinals' 2023 Season: St. Louis Cardinals Standings"