When it comes to designing small spaces, every detail counts. Each element is crucial in creating an illusion of space, from furniture arrangement to color schemes. One aspect that often goes overlooked is the choice of flooring. 
This article will explore using hexagon tiles, specifically luxury vinyl tiles, in small spaces and provide design tips to make your space feel bigger. We will also touch upon the benefits of luxury vinyl tiles in various areas of your home, such as the bathroom, kitchen, and even commercial spaces.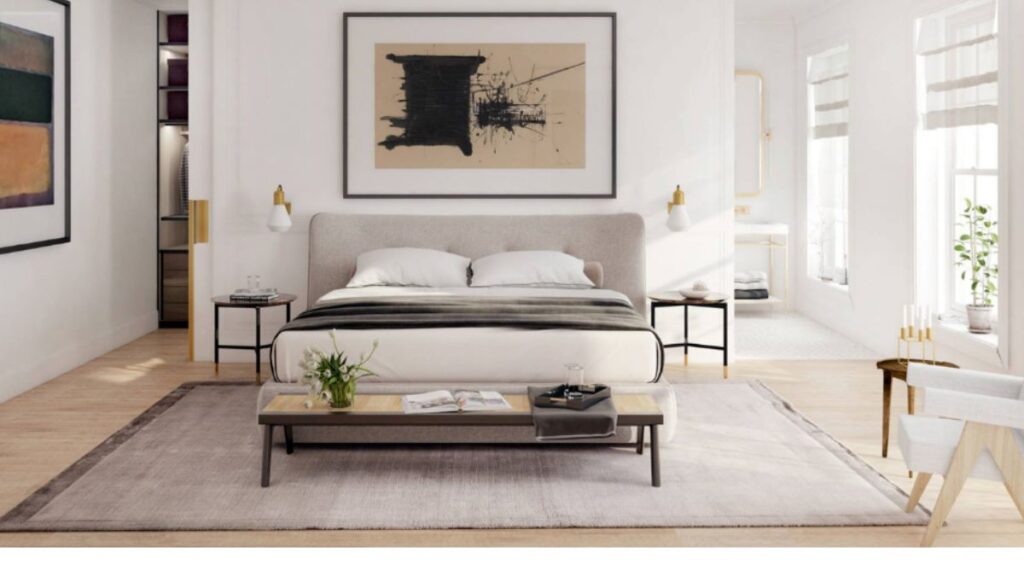 Why Choose Luxury Vinyl Tiles for Small Spaces?
Before we dive into the design tips, let's discuss why luxury vinyl tiles (LVT) are an excellent flooring choice for small spaces. LVT offers several advantages that make it a popular option for homeowners and designers alike:
Luxury vinyl tiles come in various styles, patterns, and colors, including hexagon designs. This versatility allows you to choose a design that suits your taste and complements the overall aesthetic of your small space.
LVT is known for its durability, perfect for high-traffic areas. It can withstand the wear and tear of daily use, making it a durable flooring option for small spaces.
Luxury vinyl tiles are easy to clean and maintain. Regular sweeping and occasional mopping is usually enough to keep them looking fresh and new. This low-maintenance aspect is ideal for small spaces where time and effort spent on cleaning should be minimized.
Luxury vinyl tiles are relatively affordable compared to other flooring options. This cost-effectiveness makes them attractive to homeowners who want to upgrade their small spaces without breaking the bank.
Design Tips for Using Hexagon Tiles in Small Spaces
Now that we understand the benefits of luxury vinyl tiles let's explore some design tips to help you maximize the visual impact of hexagon tiles in small spaces:
Light-colored hexagon tiles, such as white luxury vinyl tiles, can create an illusion of space by reflecting more light. Light hues make the room feel brighter and more open, making it appear larger than it is.
Embrace Monochromatic Schemes
Create a cohesive and visually appealing space using hexagon tiles in different shades of the same color. Monochromatic color schemes add depth and create an uninterrupted visual flow, making your small room appear more spacious.
The placement of hexagon tiles can significantly impact the perceived size of your space. One popular technique is to lay the tiles diagonally, creating the illusion of elongated floor space. Another option is to use a larger hexagon tile floor for a more dramatic effect.
When using hexagon tiles, consider using a grout color contrasting with the tile color. This contrast helps define the individual tiles, making them stand out and adding visual interest to the space. However, ensure the grout color complements the room's overall color scheme.
Luxury Vinyl Tiles in the Bathroom
The bathroom is a space where luxury vinyl tiles genuinely shine. Here are some tips for incorporating them into your bathroom design:
Hexagon luxury vinyl tiles can add a touch of elegance and sophistication to your bathroom. Consider creating a pattern with alternating colors or mixing hexagon tiles with other shapes to create a visually captivating floor design.
Extend the Tile to the Walls
Consider extending the hexagon tile from the floor to the walls to create a cohesive and spacious look. This continuous tile surface blurs the boundaries, making the room appear larger and more expansive. You can tile the entire bathroom using hexagon luxury vinyl tiles or create an accent wall behind the vanity or bathtub.
Using larger hexagon tiles can be a clever design choice in small bathrooms. The larger size reduces the number of grout lines, giving the illusion of a larger expanse of flooring. It also creates a more modern and streamlined look.
Opt for light-colored luxury vinyl tiles in the bathroom to maximize the feeling of openness. White luxury vinyl tiles, in particular, can create a clean and fresh ambiance. Pair them with light-colored walls and fixtures to create a serene and spa-like atmosphere.
Luxury Vinyl Tiles in the Kitchen
The kitchen is another area where luxury vinyl tiles, including hexagon designs, can transform the space. Consider the following tips for using luxury vinyl tiles in your kitchen:
Use luxury vinyl tiles in the kitchen that seamlessly flow from the adjoining spaces, such as the dining area or living room. This creates a cohesive and uninterrupted visual flow, making the entire space more spacious.
Visual Interest with Hexagons
Hexagon luxury vinyl tiles can add visual interest and a unique focal point to your kitchen. Consider creating a hexagon tile backsplash or using them as an accent strip along the kitchen island. The geometric pattern of hexagons can add a contemporary and stylish touch to your kitchen design.
The kitchen is a high-traffic area prone to spills and stains. Luxury vinyl tiles are durable and easy to clean, making them a practical choice for kitchen flooring. Their water-resistant properties can withstand spills and frequent cleaning without damage.
LVT Commercial Flooring
Luxury vinyl tiles are not limited to residential spaces; they are also popular in commercial environments. Consider the following benefits when using LVT in commercial areas:
LVT commercial flooring is designed to withstand heavy foot traffic and daily wear and tear. It is highly durable and can maintain its appearance and integrity even in high-demand areas such as retail stores, offices, or restaurants.
Luxury vinyl tiles offer various design options to suit any commercial space. From elegant hexagon patterns to wood or stone replicas, LVT allows you to create a visually appealing environment that aligns with your brand image.
Low-maintenance flooring is essential in commercial spaces where time is of the essence. Luxury vinyl tiles require minimal upkeep, making them convenient for busy environments. Regular sweeping and occasional mopping is sufficient to keep the floors pristine.
Conclusion
Incorporating hexagon luxury vinyl tiles in small residential or commercial spaces can significantly impact the area's overall aesthetic and perceived size. By choosing light colors, utilizing patterns, and considering tile placement, you can create an illusion of space and make your small space feel bigger and more open. With the durability, versatility, and cost-effectiveness of luxury vinyl tiles, they are an excellent flooring choice that combines style and functionality.