A door's handle is an often-overlooked yet crucial component, both in terms of beauty and practicality. Door handles not only function as a means to open and close doors, but also add greatly to the aesthetic appeal of a room. Door handles come in a wide variety of shapes, sizes, and materials, and this article will cover some of the basics of installing and maintaining them. Read on to learn why door handles are so significant and how they may improve the aesthetics of any area, whether you're doing a home remodel or creating a business.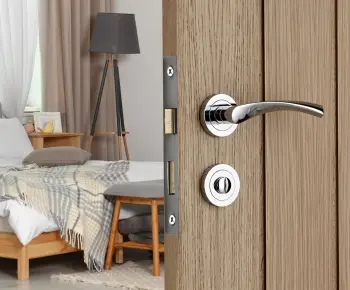 Types of Door Handles
There are many different kinds of door knobs, each with its own set of advantages. Lever handles, knob handles, and pull handles are the most typical variants.
Lever Handles
Lever handles are popular in both homes and businesses because of their practicality. The latch can be released by either pushing down on the lever or pulling it up. Popular because of their user-friendliness, lever handles are a great option for people with limited dexterity or mobility.
Knob Handles
Knob handles, as the name implies, feature a knob that may be turned to release the latch. They have a classic, timeless design and are frequently seen in residential areas. Knob handles may be less accessible for those with weaker hands since they require more force to turn than lever handles.
Pull Handles
Large doors, such as entry doors or glass doors, frequently feature pull handles. They give you a secure grasp for opening or closing the door. You can get pull handles in a wide variety of sizes and patterns, from simple and modern to elaborate and beautiful.
Materials Used in Door Handles
Many different materials are used to make door handles, each with its own set of advantages and aesthetic preferences. Brass, stainless steel, aluminum, and even glass are frequently utilized in the production of door handles.
Brass
It's common knowledge that brass door handles last forever and look great while doing it. They lend a sense of class and sophistication to rooms decorated in a classic or vintage manner. Brass knobs and pulls can be polished to a mirror finish or left with a patina for a more weathered, vintage appearance.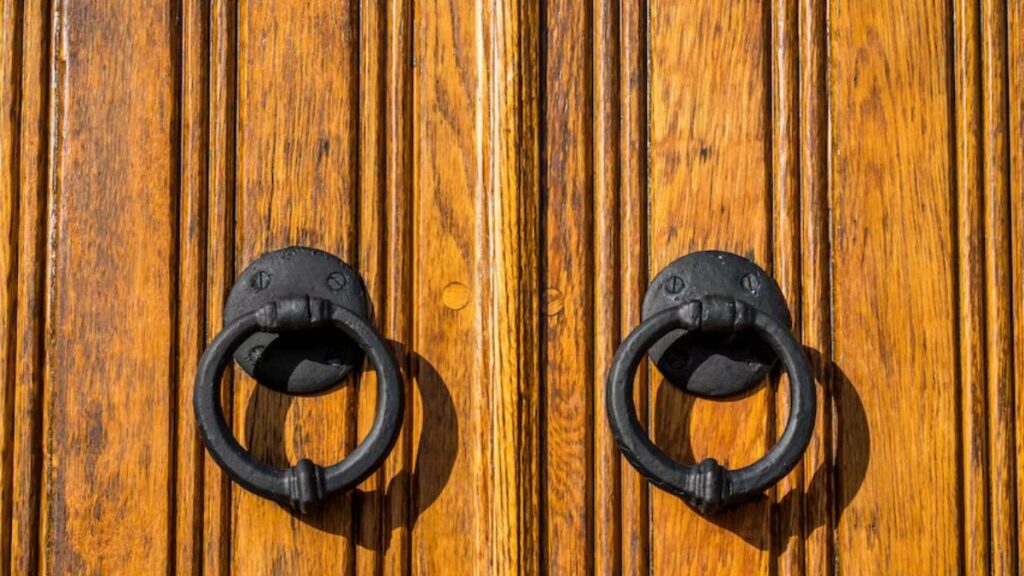 Stainless Steel
Stainless steel door handles are widely used because of its contemporary style. They last a long time, don't rust, and require little upkeep. Stainless steel handles are a flexible option because they may be used indoors or outdoors.
Aluminum
Aluminum door knobs are a great choice for interior doors because of their light weight. You can get them in a variety of colors and protect them further by having them anodized or powder coated. Aluminum knobs and pulls are popular because of their sleek, modern appearance.
Glass
Glass door handles are a one-of-a-kind and eye-catching accessory for contemporary homes. Tempered or frosted glass can be used, and they are frequently laminated with metal or wood for extra robustness. When placed on glass doors, glass handles may add a touch of class and sophistication to any room.
Design Considerations for Door Handles
Several aesthetic factors should be thought about while choosing door handles. Ergonomics, visual appeal, and the availability of decorative coatings all fall under this category.
Ergonomics
The design of door handles should prioritize user comfort. A well-made door handle will be easy to grasp and use, and the door will swing open and shut with minimal effort on your part. Since they allow for a more relaxed and comfortable grip, lever handles are frequently preferred.
Style and Aesthetics
You can tell a lot about a room's design from its door handles. They are versatile enough to work with preexisting furnishings or stand alone as a conversation starter. Choose knobs and pulls that fit in with the overall aesthetic, whether it's modern, traditional, or something in between.
Finish and Coating Options
Door knobs can be purchased in a number of different finishes, including polished, brushed, satin, and antique. The handles' visual and tactile qualities are highly susceptible to the final coating. Extra protection, scratch resistance, and color choices can be added using coatings like powder coating or PVD (Physical Vapor Deposition).
Installation and Maintenance
To guarantee that door handles last as long as possible and perform as intended, they must be installed and maintained correctly. If you want to avoid any headaches, just remember these rules:
Proper Installation Guidelines
Door knobs must be installed in accordance with the manufacturer's instructions. Using the right equipment, lining up the handle correctly, and making sure everything fits snugly are all part of this process. Loose handles or other usability issues could be the result of sloppy installation.
Cleaning and Care Tips
To keep them in pristine condition, door knobs require regular polishing and dusting. If the handle is made of metal or glass, you can clean it by wiping it down with a mild detergent or glass cleaner. To restore the luster of brass knobs and handles, use a cleaner designed specifically for that material. Don't use anything too abrasive or too chemically strong on the coating or finish.
Door Handles for Different Applications
Handles on doors serve a number of purposes in a wide range of buildings, from homes to offices to factories.
Residential Doors
In residential settings, door knobs serve a practical purpose but also add to the aesthetics and ambiance of the space. When choosing door handles for a home, it's important to think about the door's style, the room's aesthetic, and how secure you want to feel.
Commercial Buildings
Door knobs in commercial buildings need to withstand heavy use and be secure. In order to guarantee the safety and use of commercial spaces, it may be essential to install handles with a commercial-grade security rating and features like panic bars or key card systems.
Industrial Settings
Door handles in commercial and industrial buildings need to be durable enough to survive constant use and possibly damaging elements. Stainless steel and aluminum are two popular choices for handles because of their longevity and resistance to corrosion.
Security Features in Door Handles
When choosing door handles, especially for exterior doors or doors with restricted access, security should be a top priority. Think about these safety measures:
Locking Mechanisms
Traditional key locks, combination locks, electronic keypad locks, and smart locks are just some of the locking methods that can be built into door handles. Pick a locking system that provides the desired peace of mind and ease of use.
Security Grades and Certifications
Try to find door knobs that have been certified as safe by independent testing labs. The handles' ability to prevent forced entry and unlawful access is verified by the certifications.
Customization Options
Handles for doors can be altered to suit individual tastes or meet strict aesthetic criteria. Engravings, embossing's, and the ability to choose one's own color and finish are all common methods of personalization.
Engravings and Embossing
Door handles with engravings or embossing provide a special and distinctive touch. The handles can be personalized with the buyer's initials, a company logo, or a decorative design using this feature.
Color and Finish Customization
The color and finish of door handles can often be customized by the manufacturer. This gives you the freedom to complement or stand in stark contrast to the room's current aesthetic with the handles. Particularly common in commercial and hospitality spaces where branding and aesthetic consistency are paramount, custom color options are a hot commodity.
Door Handles as a Design Element
The design of a door's handle can extend well beyond its practical use. As a design element, door handles can be used in the following ways:
Matching Door Handles with Interior Decor
Pick door knobs that go well with the rest of the furniture and design scheme. Handles can help tie together the rest of the hardware (hinges, locks, etc.) and make it look more polished and professional.
Statement Pieces and Unique Designs
Pulls for doors can serve as functional art. Any door can be transformed into a work of art by including a design, detail, or substance that is out of the ordinary. To leave an indelible impact, think of using handles with decorative patterns, odd shapes, or a combination of materials.
Latest Trends in Door Handle Designs
Door handles, like any other part of an interior, go through fashion cycles. If you want your area to feel fresh and up-to-date, make sure you follow the latest trends. Some current tendencies in door handle styles are as follows:
Minimalist and Sleek Designs
The trend toward minimalistic design is continuing even in door handle construction. Minimalist door knobs are characterized by their streamlined design, straightforward shapes, and utilitarian emphasis. Sleek designs typically employ metals like stainless steel or aluminum for their modern and minimalist aesthetic.
Smart Door Handles
Smart door knobs are becoming more common as smart home technology spreads. Keyless entry, remote access control, and compatibility with voice assistants are just some of the capabilities that may be built into smart door handles. These cutting-edge knobs add a touch of the future and a sense of practicality and safety to any room.
Eco-Friendly Door Handles
More and more people in the interior design industry are thinking about environmental impact. There is a wide selection of eco-friendly door handles available currently from a variety of manufacturers.
Sustainable Materials
Carbon-neutral and ethically sourced materials are used to create sustainable door knobs. Try to find handles made from recyclable materials or wood that was gathered in a responsible manner. Eco-friendly door knobs are often made from bamboo, a fast-growing and renewable material.
Energy-Efficient Options
When a door is closed, sensors in some door handles can switch off lights and regulate the temperature to save energy. These knobs are environmentally friendly because they reduce energy consumption.
Choosing the Right Door Handle
Function, aesthetics, and cost are all important considerations when shopping for a door handle. Here are a few things to keep in mind:
Considerations for Function and Style
Consider the door's intended function and any special needs it may have. Think about things like how simple it is to use, how secure it needs to be, and how well it fits in with the door's style. The door handle satisfies both the practical and aesthetic requirements with its careful balancing of the two.
Budget Considerations
There is a wide pricing range for door knobs. Think about what you can spend, and then look into your possibilities. Don't forget to think about how much money you'll save in the long run by investing in higher-quality handles up front.
Conclusion
Although they are sometimes overlooked, the door handles in a building are crucial to the safety and aesthetics of the entire structure. There is a wide range of alternatives available when it comes to door handles, from the kind and material to the design and customisation. Elevate the look and feel of your doors and create a welcome and attractive environment by learning the significance of door handles and keeping up with the newest trends and advances.
---
FAQs
Are door handles easy to install?
Yes, most door handles come with installation instructions and can be installed using basic tools. However, if you are unsure or need assistance, it's recommended to consult a professional.
Can I replace door handles myself?
Yes, replacing door handles is a relatively simple task that can be done by most DIY enthusiasts. Just make sure to choose handles that are compatible with your existing door hardware.
Can door handles improve home security?
Door handles with secure locking mechanisms and high-security grades can contribute to overall home security. However, it's important to also consider other aspects such as the quality of the door itself, frame, and additional security measures.