There has been an explosion in the popularity of electric bikes in recent years. With electric bikes, gas-powered vehicles an be replaced with a cleaner, greener, and more energy-efficient alternative to cope with modern climate change and fossil fuel scenarios. Electric bikes are also much cheaper than cars in terms of energy costs and maintenance. They are also easier to use and require less physical effort. Furthermore, electric bikes are much quieter than their gasoline-powered counterparts, making them a perfect solution for city centers.
In the quest to attract more users to electric bikes, riders have the option to pick between two-wheelers and three-wheelers, each with its own benefits and drawbacks. Today, we will explore the world of electric bikes and electric trikes by comparing two popular models, the Grandtan Plus e-trike and the Soletan 66X Cruiser by Addmotor.
Three Wheeler or Two Wheeler Electric Bike?
With a range of models and styles, there's an e-bike for everyone. We're here to help you find the right electric bike to suit your needs and budget. So, whether you're a seasoned rider seeking comfort and stability or an adventure enthusiast craving agility and speed, let's explore the world of electric mobility and find the option that'd suit you better.
Choosing one over the other is quite difficult. As an alternative, we can try to determine which one is better suited to your needs. So, to understand things better let's start with the basics.
Addmotor Grandtan Plus E-Trike vs Soletan 66X E-Bike
Addmotor Grandtan Plus – Suitable Electric tricycle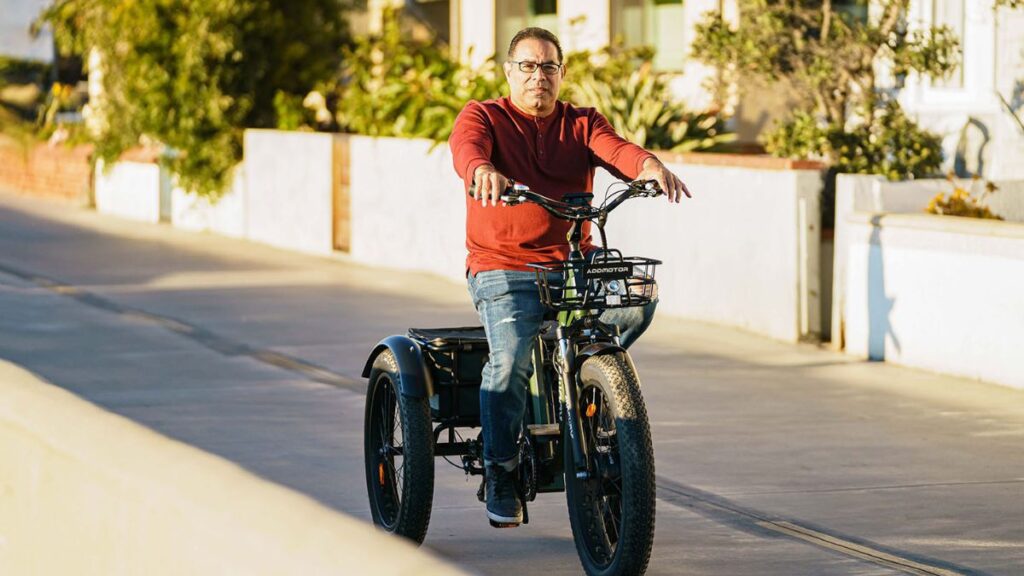 The Addmotor Grandtan Plus is a stylish and robust electric trike designed to provide stability, comfort, and enhanced carrying capacity. There is a wide range of riders who can benefit from electric trikes, like the Grandtan Plus. Following are some of those benefits and how an electric tricycle can fit your needs.
#1 Stability and safety
Electric trikes are known for their exceptional stability. With an additional wheel at the rear, riders can enjoy a more balanced and secure riding experience. It is extremely unlikely that the electric trikes will tip over, especially when making sharp turns or carrying heavy loads. Therefore, fat tire electric trikes like the Grandtan Plus are ideal for older adults or people with balance issues.
With durable ergonomic grips, handlebars, and rear and headlights, the Grandtan Plus provides a safe and relaxed riding experience. Furthermore, the e-trike comes equipped with a UL-recognized battery that is considered the safest battery option due to its third-party inspection to reduce any risks.
#2 Increased carrying capacity
The ample cargo area on electric trikes is also an important feature. This makes them a great choice for businesses and individuals who need to transport goods. With a higher carrying capacity, electric trikes can help reduce the number of trips needed to complete a task, saving time and money.
Therefore, the E-trike is a more suitable option if you're looking for something more practical and efficient. With a carrying capacity of 100 pounds (rear basket), the Grandtan Plus is more than enough to carry anything you need.
#3 Comfort and ease of use
Electric trikes often prioritize rider comfort. The Grandtan Plus comes equipped with a wide and comfortable seat, wooden footrest, ergonomic handlebars, and a step-through design for easy mounting and dismounting. Additionally, the trike's powerful 750W hub motor assists riders in conquering hills and covering longer distances with less effort.
Soletan 66X – Ideal cruiser electric bike
Are you ready for an electrifying adventure that embraces two-wheeled mobility? Enter the world of electric bicycles, where the Soletan 66X electric beach cruiser stands tall. It beckons riders to experience a symphony of agility, versatility, and unbridled excitement.
#1 Maneuverability and versatility
A two-wheel electric bicycle retains the familiar design of its traditional two-wheel counterpart, making it easy to ride and versatile to use. Since they are highly maneuverable, they are ideal for urban commuting, navigating crowded streets, and weaving through traffic. A Soletan 66X e-bike is sturdy and compact, making storage and transportation simple.
#2 Sporty and adventurous:
A ride on an electric bicycle is sportier and more thrilling than on a regular three-wheel bicycle. With their nimble design and powerful electric motors, e-bikes are suitable for riders who enjoy speed and adrenaline. The Soletan 66X electric bike with fat tires boasts excellent acceleration and can handle various terrains, making it an excellent choice for outdoor enthusiasts and those seeking an active lifestyle.
#3 Commuting and fitness
Electric bicycles are well-suited to daily commuting, promoting a greener and healthier lifestyle. The Soletan 66X, with its pedal-assist and adjustable power modes, allows riders to customize their exertion level. This versatility encourages riders to engage in physical activity while still benefiting from the electric motor's assistance.
Bottom line
When choosing between electric trikes and electric bicycles, there is no definitive answer. The decision ultimately depends on individual preferences, requirements, and the intended use of the vehicle. The Addmotor Grandtan Plus e-trike offers stability, ample storage, and a relaxed riding experience, making it an excellent choice for individuals seeking comfort and practicality. On the other hand, the Soletan 66X e-bike offers a sportier ride that allows you to accelerate better that will fit your everyday use promoting an active way to travel.