It's hard to imagine a more idyllic feeling than gliding through scenic landscapes, feeling the wind in your hair, and discovering new things. Similarly, getting out into nature has long been viewed as a means to escape the daily routine and connect with the natural world. However, for individuals with limited mobility, disabilities, or balance issues, such adventures can often seem impossible or too challenging to try on. That's where electric trikes come into the picture, revolutionizing the outdoor adventure landscape and opening doors to new possibilities.
With its three-wheel design and electric motor assistance, electric trikes have emerged as a game-changer for outdoor enthusiasts looking for a safe, accessible, and exciting riding experience. The benefits of an adult electric trike aren't limited to just adults or people with mobility issues, anyone can ride one and get an unmatched outdoor adventure like never before.
Breaking Barriers – Electric Trikes Help People Go Outsides
With so much popularity over the years, electric trikes have emerged as the go-to choice for individuals seeking to break down barriers and embark on outdoor adventures. No matter if you are an outdoor enthusiast looking to explore something completely different or someone with physical limitations searching for ways to reconnect with nature, electric trikes offer you an excellent opportunity to do whatever you need.
We will explore how electric trikes revolutionize outdoor adventures, enabling people to embrace nature. From enhanced accessibility and safety to expanded range and speed, we will discuss their various advantages and more. So, let's get your helmets on, and join us on this exhilarating journey exploring how electric trikes can open doors to unforgettable outdoor adventures.
Why are electric tricycles ideal for outdoor adventures?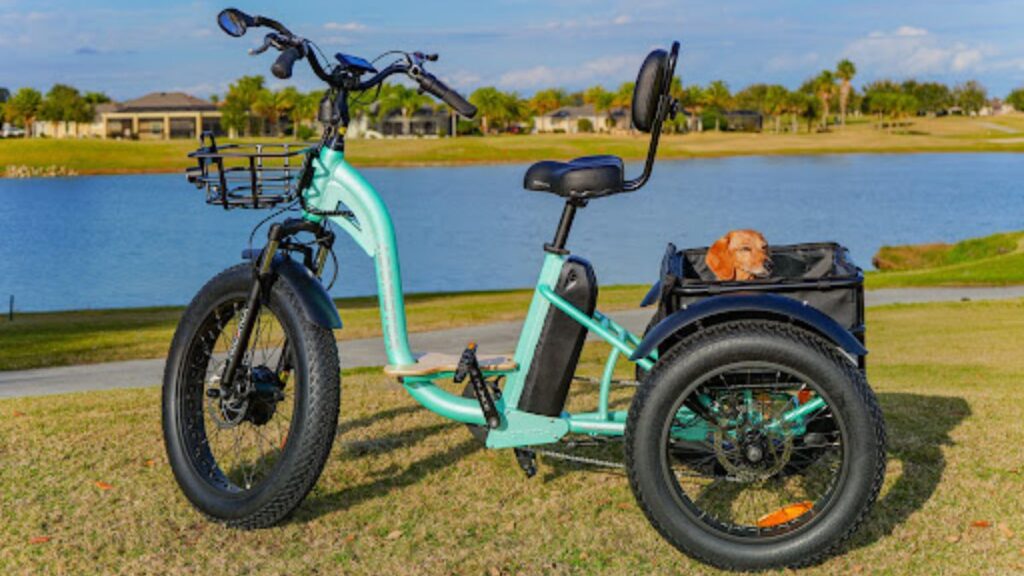 Using electric trikes allows you to stay active, improve your lifestyle, and promote fitness while saving money on gas. The importance of physical activity in living a healthier life cannot be overstated. By riding an electric trike bike regularly, you can ensure that your body receives enough exercise to meet its needs. This is a great way to reduce health risks and increase your activity level.
Cycling is a low-impact workout that is accessible to everyone. Whether you have mobility problems, balancing difficulties, or are too weak to ride a regular bicycle, we have the solution for you. With an electric trike for adults and seniors, you can enjoy the outdoors more easily. It won't take long to notice how your health and mindset improve once you incorporate an electric trike into your routine. As a result of their ease of use, you are more likely to ride it frequently and can even replace your car with one.
Benefits of electric trikes for adventurous rides
Electric trikes are suitable for every kind of rider but they are particularly beneficial for individuals with limited mobility or balance issues. The three-wheel design provides enhanced stability and support, making it easier to get out and enjoy the outdoors. Moreover, trikes often have low-step-through design frames that make them more accessible to everyone.
There is also an argument about why an electric trike should be opted for over a regular tricycle if only third-wheel stability is required. Answering this question is pretty straightforward. With electric trikes, you can also travel long distances and reach your destination with less effort. This is because they have an extended range and higher speed. As a result, long outdoor adventures are possible, scenic routes can be explored, and destinations that were previously impossible to reach on a bicycle or tricycle are now accessible.
As electric trikes are designed to provide accessible transportation for everyone, they often come with ergonomic designs and comfortable seating. This ensures a pleasant and enjoyable ride for its users. By riding in a relaxed position, riders are able to soak up their surroundings, appreciate nature, and participate in outdoor adventures at their own pace.
Additionally, with an electric trike, you can also contribute to saving the environment and making the world a better place to live. With more people becoming concerned about the environment, they are seeking eco-friendly and energy-efficient alternatives to replace gas-powered transportation. As a greener, more environmentally friendly alternative, electric trikes can help reduce carbon footprints and contribute to a cleaner environment.
The best buy electric trike like the Addmotor Grandtan Plus is also more practical in terms of cargo capacity and replacing mainstream transportation options. They have the capability to take on any type of terrain, haul cargo, save gas money, and be environmentally friendly all at the same moment. This is one of the reasons why the Grandtan Plus is one of the leading electric tricycles in the market.
How is the Addmotor Grandtan Plus different from other electric trikes?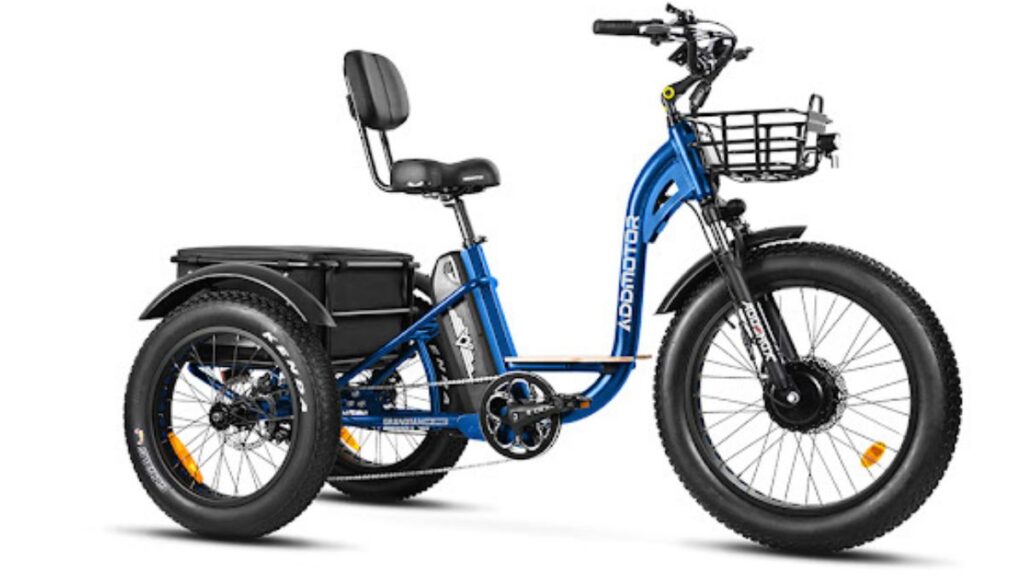 There is no doubt that the Grandtan Plus is one of the best electric trikes for outdoor adventurers. With a powerful 750W Front Brushless Hub motor, the electric trike is a class 2 trike with throttle on-demand mode as well. It accelerates up to 20mph and can handle rugged and tough terrain as well as uphill rides. In terms of battery power, the Addmotor relies on the UL-recognized 48V*20Ah Samsung Cell Battery pack which provides an impressive range of up to 85 miles.
Another tremendous feature of the Grandtan Plus is its payload capacity. In terms of cargo, the trike can carry up to 450 pounds. It comes with an intuitive LCD display that displays all the information about the trike, including the speedometer, battery life, and range. The Grandtan Plus also comes with a variety of accessories, such as a basket for carrying groceries, and a cargo rack for transporting larger items. Another feature worth mentioning is the wooden footrest on this trike's frame. This allows the rider to rest his legs when tired.
Conclusion
Electric trikes are truly breaking barriers and revolutionizing the way we approach outdoor adventures. With their enhanced accessibility, safety features, extended range, and cargo capacity, they offer a unique opportunity for individuals of all abilities to explore the great outdoors. Among the many options available in the market, one standout choice is the Addmotor Grandtan Plus. Its powerful electric motor, comfortable seating, and durable construction make it an excellent option for those seeking thrilling outdoor experiences.