Here you can find detailed information on the Error:403-1000 Forbidden problem and how to fix it. Here, we'll examine the specifics of the issue, discuss its repercussions, and offer up eight tried-and-true solutions. You'll walk away from this article knowing exactly what causes this problem and how to fix it. Let's dive in right now.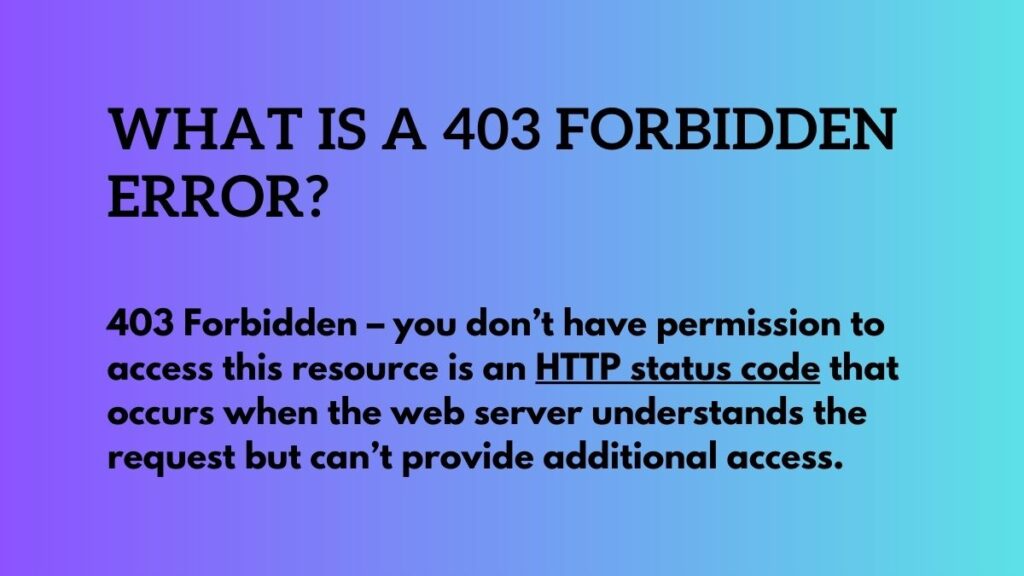 Understanding the 403 Forbidden Error
When a user tries to view a web page but is rejected by the server, the HTTP status code 403 Forbidden is returned. This error means that the server has recognized the user's request but is refusing to comply with it. It's a safeguard that stops people from getting into restricted areas of the web.
Common Causes of the 403 Forbidden Error
1. Insufficient Permissions
A 403 Forbidden error usually occurs because of a lack of necessary permissions. When a website's server prevents unauthorized users from accessing certain folders or files, authentication is necessary. The server will return the 403 Forbidden error if you try to access a resource for which you do not have permission.
2. Incorrect File or Directory Permissions
A 403 Forbidden error can also be caused by incorrect directory or file permissions. A web server's permissions system controls who can access which files and directories and what they can do once they're there. The server may refuse access with the 403 Forbidden error if these permissions are wrong or excessively restrictive.
3. IP Address Restrictions
In order to restrict access to certain countries or networks, website managers frequently use IP address limitations. The 403 Forbidden message is displayed if your IP address is not on the authorized list. This safeguard is put in place to secure private data and restrict access to it in specified areas.
4. Incorrect URL or Link
A Error:403-1000 Forbidden error may appear if the user enters an invalid URL or clicks on a link that no longer works. Verify that you entered the correct URL into your browser's address bar. If the problem persists, try troubleshooting it with one of the other methods described below.
How to Fix the 403 Forbidden Error (8 Methods)
Now that we know what typically triggers the Error:403-1000 Forbidden error, we can dive into eight reliable solutions:
Method 1: Check Your URL and Clear Cache
First, double check that you typed the URL correctly. It's conceivable that the problem stems from a simple case of typographical error. To get rid of any cached data that might be preventing the website from loading, you should clear your browser's cache.
Method 2: Refresh the Page
The Error:403-1000 Forbidden error message might be caused by momentary server difficulties. In some circumstances, refreshing the page may assist. To try accessing the page again, either use your browser's "Refresh" or "Reload" button or the keyboard shortcut (Ctrl+R or Command+R).
Method 3: Log In with Proper Credentials
If the site you want to visit asks for authentication, double check that you're using the right credentials. Verify that you entered the correct username and password. If you have lost access information, you may easily reset it by following the instructions.
Method 4: Contact the Website Administrator
Contact the site's administrator or support staff if you feel the 403 Forbidden message was unnecessary or if you need access to restricted content. They will be able to provide you more information, check your permissions, and help you fix the problem quickly.
Method 5: Modify File and Directory Permissions
Changing directory and file permissions is one way to fix the 403 Forbidden issue if you have administrative access to the web server. Check that you have write rights to the folders and files you need. If you need help modifying permissions, check with your hosting company or look in the server's documentation.
Method 6: Check IP Address Restrictions
Contact the site's administrator or hosting provider to find out whether your IP address is blocked due to security measures. The limits can be changed or additional means of accessing the material you require can be made available if necessary.
Method 7: Disable Proxy or VPN
A Error:403-1000 Forbidden error may appear while using a proxy server or a Virtual Private Network (VPN) connection to access a website. If you are using a proxy or VPN service, please disconnect before trying to view the website again.
Method 8: Consult Online Resources and Communities
Consult appropriate internet resources, forums, or groups if none of the above solutions work to fix the 403 Forbidden problem. This mistake has been the subject of several internet forums and how-to articles. Participating in the community can yield useful information and ideas for resolving the problem.
Conclusion
In conclusion, the Error:403-1000 Forbidden error is annoying, but it is possible to fix it successfully with little background knowledge. We identified eight tried-and-true solutions to this issue after investigating its root causes. Verify the URL, flush the cache, and use strong authentication. Get in touch with the site's admin or hosting service if you need any more help. If you follow these instructions, you should be able to access the material again.
Also see: Error Code 429 on Roblox